Gender
Price
Locality

More Filters
Your second home in Hyderabad
So Hyderabad is going to be your new hub. Great! But to rent a local Hostel in Hyderabad is to start off this phase on the wrong foot. Good news for you the best hostel in Hyderabad has opened its doors for you. But what does the 'Best' in the best Hostel mean? It means that it is like no other Hostel in Hyderabad. And you won't live the life of a paying guest over here. You'll be pampered as a member of a family. Now, how else would you describe a place where you get the family feeling? You'd say it's a place that feels like home. And that's what this 'Hostel' is. Miles and miles away from your home, it is your second one - Stanza Living.
Things to Remember while Renting a Hostel in Hyderabad
You might have heard that there's a lot that you should remember while renting a Hostel in Hyderabad. What is the room like? Do they provide amenities like wifi, food, AC, and power backup? This and a whole lot more. But why get jumbled up in these checklists? We say that you should look for that one thing that covers everything else. All you have to remember is to see if the Hostel or PG in Hyderabad can be more than a Hostel. Can it be home? Because home is where all these needs of yours are priority number one. And that's why we say that, at Stanza Living, you won't just find a Hostel. You'll find a second home.
Best Girls And Boys Hostels in Hyderabad
Stanza Living wins over any Hostel in Hyderabad. And here's why it will win you over as well. We can talk about our rooms. Because we think of them as more than rooms. We design them to be a reflection of your vibe, and to be your much-cherished personal space. Next, we can compare the amenities. We believe no service is non-essential, unlike others. That's why we provide amenities to meet all your needs, even the tiniest ones.
Next up, we have a residence culture. Simply put, there actually is one at Stanza Living. Unlike most Hostel accommodations, we organize regular movie screenings, game nights, and more such events - with social distancing in place - so that life here is always, well, full of life. Of course, that's not all. There are more reasons to choose Stanza Living over a usual Hostel in Hyderabad, but to save you time, we'll close with this - Choose Stanza Living not because it's better than any Hostel. Choose it because it's your second home.
Not in the mood for Pg in Hyderabad, Check out a flat for rent in Hyderabad.
*Denotes starting price. Prices may vary with room occupancy and attributes.
FAQs on Hostels in Hyderabad
How Good are the Services of Hostels in Hyderabad?
Each Stanza Living serves only expertly curated meals to their residents and their laundry and room cleaning needs are taken care of by professionals. Other services include bed and mattresses, hot water supply, 24/7 power backup, LED, wall mirror, attached washrooms, Wifi. You will not find a local Hostel in Hyderabad that provides such services.
Here are the popular localities in Hyderabad where you can rent the best Hostels at affordable rates,
How to Search for a Furnished Hostel for Ladies and Gents in Hyderabad?
You're already at the best place for it. Check out our many residences in the area and pick your favorite. Then the mission 'finding affordable, furnished Hostels in Hyderabad' will be complete.
How much will a Hostel in Hyderabad Cost?
Generally, Hostels in Hyderabad are not very expensive. Their monthly rent is usually a few thousand rupees. In return, you get a basic room with basic furniture and basic amenities. Cost-effective, basically. But there is one thing missing - a feeling of home. If you want that, Stanza Living is a place for you. And it's yours to have for roughly the same amount. Now, is missing out on it a cost you're willing to bear?
Which is the Best Girls Hostel in Hyderabad?
There are some girls Hostels in Hyderabad. And then there are better girls Hostels in Pune. But the spot for the best option for you is reserved for one name alone. And that, as you might have guessed, is Stanza Living.
Check out these Stanza Living residences that top even the Best Girls Hostel in Hyderabad,
Which is The Best Boys Hostel in Hyderabad?
There is no shortage of boys hostels in Hyderabad. But the best ones are in short supply, as they're more than just Hostels. Very much like Stanza Living. A place that's not just a place to stay, but a home away from home.
Here is the list of our accommodations that top even the best Boys Hostels in Hyderabad
How to find a Hostel in Hyderabad with Single, Double, or Triple Occupancy?
There is no shortage of Hostels in Hyderabad, be it single, double, or triple occupancy. And yes, some of them are decent, if not good. But the best option for you is a place that can be more than just a Hostel. A place like Stanza Living.
How is Stanza Living Better from Local Hostels in Hyderabad?
So most Hostels in Hyderabad will try to grab your attention by claiming that they are the 'best, 'special', and 'first-class' options. But more than just a Hostel, a Stanza Living residence tries to be like a home for you. And this similarity to home is what makes us so very different.
Need a quiet place to study, Check out the best libraries in Hyderabad.
How Safe are Hostels in Hyderabad During the Coronavirus Outbreak?
We'll be honest. Most Hostels in Hyderabad just don't have the resources to give you adequate protection against COVID-19. But Stanzens need not worry. They live in a safe and hygienic environment, courtesy of Stanza Living's COVID-19 Combat-Ready Framework.
Looking for flats & apartments?
You can book a full apartment now and find flatmates on your own. You can add them as flatmates in the agreement before moving in!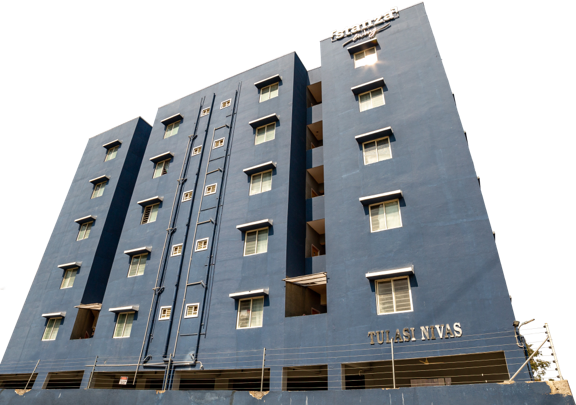 0