Gender
Price
Locality

More Filters
Your second home in Karve Nagar
Hey, we find that you are searching for a PG in Karve Nagar, Pune? Your search is over now. We have covered you with a surprising PG accommodation near Karve Nagar in Pune. So unusual that nothing else is comparable. Actually, it's not even a conventional PG. It is more like home. And you will be more than just a paying guest over here. You'll be one of many like-minded youngsters who'll feel like family. Now, how else would you describe a place where you get the family feeling? You'd call it a place like home. And that's what this 'PG in Karve Nagar is. It's your second home in a strange, new city - Stanza Living.
Checklist for Renting a PG in Karve Nagar, Pune
The checklists should be according to your needs and feelings. Remember that the PG in Karve Nagar you live in doesn't have to be just any old PG accommodation. The thing is, the local paying guest accommodations still haven't figured out that you want more than just a place to eat and sleep in. So if you have to choose a PG in Pune, make sure you see yourself looking back at it fondly in years to come. You just need to remember to look for PG accommodation that feels more like home. Because just like home, it will take care of every single need. And that's what Stanza Living has in store for you. It's why so many youngsters, like yourself, call it their second home.
Best PG in Karve Nagar, Pune
If we ask this question to young people like you, Stanza Living is the obvious choice, for the best PG in Karve Nagar. And here's why it's so obvious. The first difference you'll notice is in the rooms. With us, your room will not be just a space to sleep and rest in. It will be your pad, your hub, your personal space. Besides the physical rooms, we also have room for all your needs. Our list of amenities includes essentials and even those that others don't consider essential enough, so you can truly experience what comfortable living is. Next, we can talk about life at Stanza Living. To keep it short, there actually is one at Stanza Living. Thanks to the movie screenings, game nights, and other community events and workshops (all conducted with social distancing practices in place, of course). Now, we could go on and on. There are many more reasons to choose Stanza Living over a typical PG in Karve Nagar. But we'll just leave it at this - choose Stanza Living if, instead of a PG, you want to live in a home. Or, as we call it, your second home.
Want to explore more? Choose fully furnished residences from the other localities of Pune:
*Denotes starting price. Prices may vary with room occupancy and attributes.
FAQs on PG in Karve Nagar
What Should I Check While Booking a PG Accommodation in Karve Nagar?
Check for a PG that can be more than just a PG in Karve Nagar. Like Stanza Living. It's not just a place to stay. It's your second home.
Do PGs near me Provide a 24*7 Power Backup?
You'll find many PGs make the 24X7 power backup claim. But those claims are often hollow. Just like the diesel tank of their generators. Now, 24X7 power backup is also one of Stanza Living's claims. But once you live with us, you'll realise we're one of the few to back it up.
How Safe are PGs in Karve Nagar for Students and Working Professionals?
When it comes to the safety of local PGs in Karve Nagar, you'll have to rely on those PGs for that information. Instead, we can tell you of the biometric security, the CCTV cameras, and other security measures we have in place at every Stanza Living residence. Anything less than that, in our opinion, is not safe enough.
Choose your second home from these Stanza Living residences that leave even the best PG near Karve Nagar behind.
Which are the Good PGs in Karve Nagar with Single Occupancy?
There's no shortage of single occupancy PG in Karve Nagar. And some of them are good. But when it comes to the best option for you, it's a place that is much more than just a PG. A place called Stanza Living.
Which is the Best PG in Karve Nagar for Females?
There's a PG in Karve Nagar for females on almost every street. But finding the best ones is hard because they don't look like normal womens hostels. The best ones are those that, in a strange city, give you a familiar feeling of home. Like Stanza Living.
Will you be Safe from COVID-19 in a Stanza Living Residence?
While you are always welcome to our residences, COVID-19 is undoubtedly not. That's why we've taken several measures to protect all our residents. From fully-sanitized rooms and common areas to practicing social distancing even in everyday tasks like serving meals in the dining area. The advantage we have over a small PG in Karve Nagar is our scale and network. But that means greater responsibility to protect you from the coronavirus. And we don't shy away from our responsibilities to you.
Upington House

FEMALE

Double

High-Speed WIFI, Professional Housekeeping and +1 more
Mansa House

FEMALE

Double, Triple

High-Speed WIFI, Laundry Service and +8 more
Looking for flats & apartments?
You can book a full apartment now and find flatmates on your own. You can add them as flatmates in the agreement before moving in!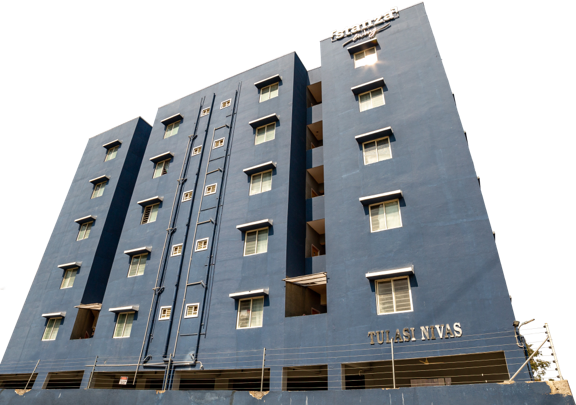 Best-in-class Safety and Hygiene Certified by Equinox Labs
First and foremost, we've adopted thorough hygiene processes over and above our usual protocol.

Residences
Sanitisation

Thermal
Monitoring

Medical & Travel
History
24x7 Quick
Response Teams

Training As per
WHO norms

No-Touch
Dining Facility
Mandatory PPE
for Staff

Sanitisers Placed
at Multiple Areas

Daily Disinfecting
High Touch Areas
0