Gender
Price
Locality

More Filters
Your second home in Kondapur
Stop looking, there is a unique PG in Kondapur, for folks like you. There is no other PG accommodation like it. We'd say calling it a mere hostel in Kondapur sounds unfair because it is much more than that. You'll feel like a member of a big but close-knit family. Now, when you feel like family in a place, it starts feeling like home. And that's exactly what this place is. It's Stanza Living, a second home to many youngsters like yourself. And it can be yours as well.
Points to Focus on While Renting a PG in Kondapur
We'll save you the time - we've looked at PGs in Kondapur, and they have a lot of things missing. The rooms that you'd like to be vibrant and fully furnished are boring and basic. Since many daily essentials are missing, arranging for them becomes your headache. And the feeling of belonging that everybody needs, is nowhere to be found in the basic, functional PG in Hyderabad. However, this doesn't mean that you'll have to limit your expectations. You also have the opportunity to live in a place where you get all the comforts, vibe, and warmth that you look for - Stanza Living.
If Kondapur is not the place for you. Here are our other residences in Hyderabad.
Best Girls and Boys PG in Kondapur
Stanza Living is one of a kind, no doubt about it. Your rooms will feel like you, in every corner. And too many facilities to list here, all at your disposal. And that is just beginning to scratch the surface. But it's life at Stanza Living that makes it different. Including regular movie screenings, game nights, and more (conducted with social distancing in place, of course). Now, we could go on and on. There are many more reasons to choose Stanza Living over a typical PG in Kondapur. But we'll just leave it at this - choose Stanza Living if, instead of paying for guest accommodation, you want to live in a home. Or, as we call it, your second home.
If you are not into PGs, don't worry we got you covered check out Best flats for rent in Hyderabad.
*Denotes starting price. Prices may vary with room occupancy and attributes.
FAQs on PG in Kondapur
What Should I Look for While Renting a PG in Kondapur?
Look in the mirror and ask yourself - why am I even considering a hostel in Kondapur? Because why bother checking out hostel accommodation when there's a Stanza Living residence waiting to be your second home.
Want your business to rank on top in google search, Check out the best digital marketing agencies in Hyderabad.
Which is the Best Men's PG in Kondapur?
To be honest, even the best men's PG in Kondapur Hyderabad is not the best option for you. Especially when you can live in your second home - Stanza Living.
Here is the list of our accommodations that top even the best Boy's Hostels in Hyderabad
Is there Any Good PG near me with Single Occupancy?
There's no shortage of single occupancy PG in Kondapur. But are they any good? There's only one answer - NO! The only place that's an adequate replacement when you leave home for this city, is a second one - Stanza Living.
What are the Basic Amenities Provided by a PG in Kondapur?
You'll find food, hot water, and other such basic amenities at some PGs/Hostels. But aren't these too basic? You should stay in a place that values all your needs and has an amenity for each one of them. You should stay in Stanza Living, basically.
Here are the popular localities in Hyderabad where you can rent the best Hostels at affordable rates,
Do Hostels in Kondapur Provide 24/7 Power Backup?
There are some PGs that say they provide 24X7 power backup. But how many of them actually do? We don't know. At Stanza Living, 24X7 power backup is also one of our claims. And you can hold us to it, 365 days a year.
Which PG near me Provides the Best Food Facilities?
If your definition of food is 'anything that's edible, then almost every hostel in Kondapur provides food facilities. But if you have high expectations for the meals that you get from the accommodation, Stanza Living is the accommodation for you.
How to Search for Affordable Furnished PG in Kondapur?
Pro tip: Don't search for a PG in Kondapur. Instead, use your time to visit the many fully-furnished Stanza Living residences in the area and pick the one most suited to you. It will surely be worth your money.
Check out these Stanza Living residences that top even the Best Girls Hostel in Hyderabad,
Maribor House


UNISEX

Double, Triple

High-Speed WIFI, Professional Housekeeping and +6 more
Looking for flats & apartments?
You can book a full apartment now and find flatmates on your own. You can add them as flatmates in the agreement before moving in!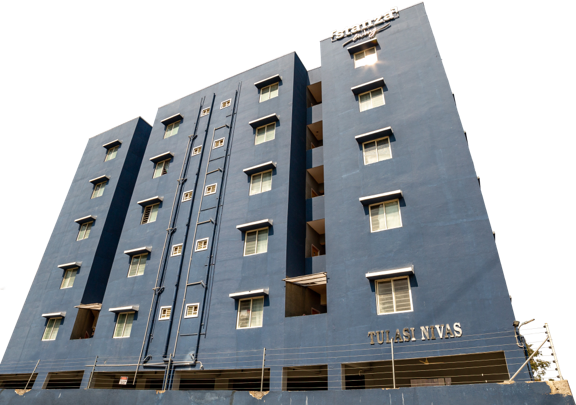 Best-in-class Safety and Hygiene Certified by Equinox Labs
First and foremost, we've adopted thorough hygiene processes over and above our usual protocol.

Residences
Sanitisation

Thermal
Monitoring

Medical & Travel
History
24x7 Quick
Response Teams

Training As per
WHO norms

No-Touch
Dining Facility
Mandatory PPE
for Staff

Sanitisers Placed
at Multiple Areas

Daily Disinfecting
High Touch Areas
0