Gender
Price
Locality

More Filters
Your second home in Aziznagar
Congratulations, we have discovered a different PG in Aziznagar, for youngsters like you. So different that nothing else is comparable. In fact, calling it a PG in Azizinagar sounds unfair. You'll be part of one big, happy family. Now, what would you call a place where you feel like family? You'd call it a place like home. And that's what this 'PG' is. It's what thousands of youngsters like you call their second home - Stanza Living.
Things to Remember while Renting a PG in Aziznagar
Going by popular opinion, the things to remember while renting a PG in Aziznagar is like memorising algebra equations in school. There's a lot to keep in mind. Does the room have the furniture you need? Does it come with wifi, power backup, AC, food and other amenities? And these are just two of the many things on the list. But why get jumbled up in these checklists? We say that you should look for that one thing that covers everything else. Just remember that your PG in Hyderabad fought to be more than a PG. It should feel like home. Because a place like home, takes care of all your needs. And that's what Stanza Living has in store for you. It's why so many youngsters like yourself, call it their second home.
Best PG in Aziznagar, Hyderabad
Stanza Living or a local PG in Aziznagar. It's not a tough choice to make. Let us show you why. Let's begin with rooms. Our rooms, specifically, are nothing like rooms elsewhere. They are thoughtfully-designed personal spaces that you truly belong to. On top of that, we have many amenities. And by many, we mean 'many'. Not just the basics, but everything you need to not have any needs left. Up next, is life at Stanza Living. We feel that it shouldn't be limited to just your room. So we organise movie screenings, game nights and more (within social distancing norms, of course) so that life is always happening over here. But, if you think about it, you don't need all these details. One short phrase will do. Choose Stanza Living over any other PG in Aziznagar, because it is not just another PG. Choose it because it's your second home.
*Denotes starting price. Prices may vary with room occupancy and attributes.
FAQs on PG in Aziznagar
Why is Living in a PG in Aziznagar Cost-Effective?
A PG in Aziznagar can be yours if you're willing to pay a few thousand a months in rent. That rent gives you a basic room and some essential amenities. Pretty cost-effective, we would say. But the package does not include a feeling of home. That rarity is found only in Stanza Living. And it's yours to have for roughly the same amount. Now, is missing out on it a cost you're willing to bear?
How Good are the Food, Laundry, and Room Cleaning Services of PGs in Aziznagar?
Each Stanza Living serves only expertly curated meals to their residents and their laundry and room cleaning needs are taken care of by professionals. Finding a local PG in Aziznagar that offers services of the same quality will be hard. In fact, the only thing harder will be finding faults in ours.
How Safe are PGs in Aziznagar During the Corononavirus Outbreak?
Let's talk facts. Small-scale PGs in Aziznagar are small-scale for a reason. They don't have the resources to provide adequate COVID-19 protection. But you'll be glad to know that at Stanza Living, you'll have the protection of a safe and hygienic environment, thanks to our COVID-19 Combat-Ready Framework. Read more about it here: www.stanzaliving.com/covid-19
What Should I Check While Booking a PG in Aziznagar?
Are the rooms spacious enough for me? Will I have my priivacy? Is there wifi? Who'll clean my room? These are some of the many questions you must ask. But if that seems like a lot, just check if that PG in Aziznagar gives you the home feeling. If you'd rather not do that either, just pick Stanza Living. Making you feel at home, is our speciality.
How Much Will a Fully-Furnished PG in Aziznagar Cost?
If you're willing to spend a few thousand a month, a fully-furnished PG in Aziznagar is easy to find. But for those same few thousand, Stanza Living offers you something more than just a fully-furnished PG. We offer you a second home.
How Safe are PGs in Aziznagar for Students and Working Professionals?
For us at Stanza Living, only our multi-tier tech-enabled security system will do when it comes to your safety. And in our book, only if a PG in Aziznagar provides equal measures of security, can it be considered safe enough.
Looking for flats & apartments?
You can book a full apartment now and find flatmates on your own. You can add them as flatmates in the agreement before moving in!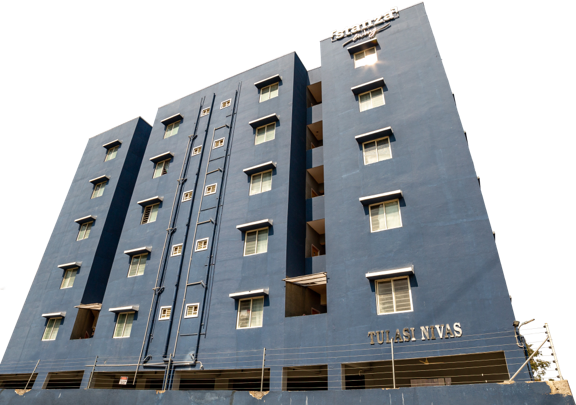 Map View