Gender
Price
Locality

More Filters
Your second home in Hyderabad
What if we tell you, there's a special PG in Madhapur, Hyderabad for you? But what makes it a 'special' hostel in Madhapur?. It'll be hard for you to find another PG like it. In fact, to consider it just as PG accommodation feels like sacrilege. It feels more like home. A home offers something beyond housing; it offers a feeling of belonging. And that's exactly what this PG is. It's your second home in a strange, new city - Stanza Living.
Things to Focus on While Renting a PG in Madhapur?
Most folks will tell you to get your notepad out. And write down the many things to remember while renting a PG in Madhapur, you'll need to carry a pen and paper with you. There's the room and its furniture. The food, wifi, AC, power backup, and other amenities. All form a list that is really long. But you don't need to get ready with checklists whenever you check out a PG hostel in Madhapur. Always remember that only a hostel accommodation that is less than a hostel in Madhapur and more like a home is what you need. So if you have to choose the best PG in Hyderabad, make sure you see yourself looking back at it fondly in years to come. Because a place like home will take care of all your needs and that's what you should pick. There are many hostels in Madhapur which may offer utilities and amenities, but there is the only one that can offer you the feeling of home i.e Stanza Living.
Best Ladies and Gents Hostel in Madhapur, Hyderabad?
Whether it is about choosing a boys hostel in Madhapur or a girls hostel in Madhapur, Choosing Stanza Living over another Hostel in Madhapur will be the easiest choice you make. And this is why we can talk about our rooms. Because we think of them as more than rooms. We design them to be a reflection of your vibe, and to be your much-cherished personal space. Besides the physical rooms, we also have room for all your needs. Our list of amenities includes essentials and even those that others don't consider essential enough, so you can truly experience what comfortable living is.
Next on the list is life at Stanza living. Thanks to our one-of-a-kind community program that includes movie screenings, game nights, and more (all conducted within social distancing norms), your life over here won't be limited to those rooms we talked about earlier. Now, we could go on and on. There are many more reasons to choose Stanza Living over a typical PG in Madhapur. But it's life at Stanza Living that makes it different. We live like a family at Stanza Living, with warmth and care. And the biggest reason is that it always feels like home, unlike any other paying guest in Madhapur.
A Paying guest in Madhapur is not the only place for a second home. We have residences in other parts of Hyderabad too.
Places in and around Madhapur: HITEC City, Kothaguda, Gachibowli, ISB, Moti Nagar.
*Denotes starting price. Prices may vary with room occupancy and attributes.
FAQs on PG in Madhapur
Which are the Best PGs for students?
The only parameter behind calling hostels in Madhapur safe for students is by putting at ease the worrying parents back home. Stanza Living, with its plethora of services and multi-tier security system, does just that. After all, it's your second home.
Do Hostels in Madhapur Provide Housekeeping Services?
There are a few PG accommodations in Madhapur that will get someone to mop your floor once a week maybe. But for us at Stanza Living, housekeeping services mean a team of experts that'll keep your room spick and span.
Which are the Best Ladies Hostel in Madhapur?
Go through the entire list of
PG in Madhapur for ladies
, and it'll be clear what is the best option for you. And that's none other than your second home, Stanza Living.
How Much Will a Fully Furnished Men's PG in Madhapur Cost?
A fully-furnished
men's PG in Madhapur
will set you back a few thousand rupees a month. Pretty affordable, we'd say. But for the same amount, Stanza Living gives you more than just a fully-furnished PG. It gives you a second home.
Here is the list of the best PGs/hostels in Madhapur, Hyderabad suitable for both men and women:
How Safe are Ladies' Women's Hostel in Madhapur, Hyderabad?
Well, at Stanza Living, we insist on having our multi-tier tech-enabled security system at every one of the residences which makes it a safe women's hostel in Madhapur. And in our book, only if a PG in Madhapur provides equal measures of security, can it be considered safe enough.
What is the Best Way to Search for an Affordable Furnished PG near me?
One way is to spend hours and hours trying to find the right PG in Madhapur listed on the internet. But instead of going through that trouble, take the simpler and smarter route. Pick one from the Stanza Living residences in the area and make it your second home. You know that's what is best for you. Or just open google search and type "pg near me by stanza living" and book online.
Why is Living in a PG in Madhapur Cost-Effective?
As a general rule, a hostel in Madhapur can be yours for just a few thousand rupees a month. In return, you get a basic room with basic furniture and basic amenities. Cost-effective, basically. But there is one thing missing - a feeling of home. If you want that, Stanza Living is a place for you. And it's yours to have for roughly the same amount. Now, is missing out on it a cost you're willing to bear?
How Safe are PGs in Madhapur During the Coronavirus Outbreak?
It's not their fault, but most PGs in Madhapur are too understaffed and short on resources to adequately protect you from COVID-19. But you'll be glad to know that at Stanza Living, you'll have the protection of a safe and hygienic environment, thanks to our COVID-19 Combat-Ready Framework.


Looking for flats & apartments?
You can book a full apartment now and find flatmates on your own. You can add them as flatmates in the agreement before moving in!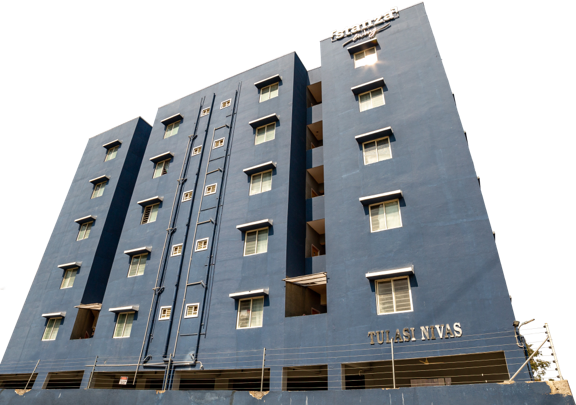 0