Gender
Price
Locality

More Filters
Your second home in Kondhwa
PG in Kondhwa
Breaking news! There's a special PG in Kondhwa. And it's waiting for you. But what's the reason behind it being special? This PG in Kondhwa is not just an ordinary PG Accommodation. So unique, that you won't find anything like it elsewhere In fact, calling it a PG accommodation sounds unfair. It is almost like home It's a PG in Kondhwa, Pune where you feel completely at ease. You won't be a simple paying guest over here either. You'll be part of one big, happy family. Now, how else would you describe a place where you get the family feeling? You'd say it's a place that feels like home. And that's what this 'hostel in Kondhwa' is. It's what thousands of youngsters like you. In short It's nothing less than your second home. It's Stanza Living.
Points to Remember While Renting a PG in Kondhwa
You might have heard that there's a lot that you should remember while renting a PG in Kondhwa. You can't list the things you need to remember looking for. Large, ventilated rooms, AC, and Wi-Fi among other amenities and services come to mind, right? You might still end up missing quite a few things. The list is exhaustive and you have to go through it at every residence. But we say, why spend all this time ticking everything off the list when you need to look for just one thing that means everything else will be taken care of? Just remember that your PG in Kondhwa ought to be more than paying guest accommodation. It should feel like home. Because a place like home takes care of all your needs. And that's very much what it's like at Stanza Living. It's why we call it your second home.
Best PG in Kondhwa, Pune
There are countless reasons why you should pick a Stanza Living residence over any local PG in Kondhwa. From the physical space to the emotional need of community, from the daily essentials to 24*7 security, everything has to be - and is - above typical standards of PGs in Pune. But why bother you with so many details, when just these few words should do the trick. A PG in Kondhwa will be nothing more than a PG accommodation. But a Stanza Living residence will be nothing less than your second home.
Since it's your first time in Pune, you should check out the cost of living in Pune
*Denotes starting price. Prices may vary with room occupancy and attributes.
FAQs on PG in Kondhwa
Why is Stanza Living an Ideal Choice When Looking for Best PG in Kondhwa?
That's so because a Stanza Living residence is much more than just a PG in Kondhwa. It's where you don't just stay but belong to. Where you make lifelong friends and memories. It's where you'll find a home away from home.
Best PGs in Kondwa for Male and Female:
How to Find Best PGs in Kondhwa for Male?
PG in Kondhwa for gents are many, But when we're talking of the best ones, only one stands out. And that - surprise! surprise! - is Stanza Living.
Which are the Safest PGs in Kondhwa for Ladies?
Walk into any Stanza Living residences. And you'll see that it has our standard multi-tier security system in place. Now when it comes to local Hostels, this level of safety is just not there. So in the safest PGs for ladies category, they have a long way to go to move Stanza Living to the top spot.
How to find a Good Single/Multiple Occupancy PG near me?
You can find a 'good' single/multiple occupancy PG in Kondhwa anywhere in the city. But why even settle for just good, when the best has opened its doors to you? And by that, we mean none other than Stanza Living.
What are the Basic Amenities Provided by Hostels in Kondhwa?
The basic amenities provided by Hostels in Kondhwa include food, ACs, and hot water. But aren't those a little too basic? Especially when compared to the exhaustive amenities provided at Stanza Living. For us, all your needs should be met, basically speaking.
How are PGs in Kondhwa Taking Precautions During COVID-19 Breakout?
In keeping the coronavirus out, nothing works better than a proper COVID-19 Combat-Ready Framework comprising thermal monitoring, strategically-placed hand sanitizers, and more. Which you'll find in only one PG in Kondhwa. But do you really think this PG could be any average PG? No, right? That's because it's your second home - Stanza Living.
Quezon House

MALE

Double

High-Speed WIFI, Laundry Service and +5 more
Looking for flats & apartments?
You can book a full apartment now and find flatmates on your own. You can add them as flatmates in the agreement before moving in!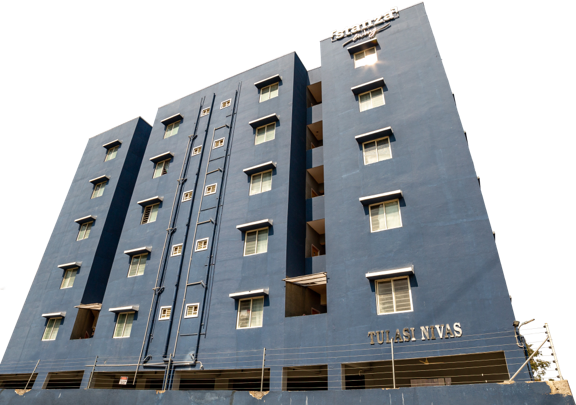 Best-in-class Safety and Hygiene Certified by Equinox Labs
First and foremost, we've adopted thorough hygiene processes over and above our usual protocol.

Residences
Sanitisation

Thermal
Monitoring

Medical & Travel
History
24x7 Quick
Response Teams

Training As per
WHO norms

No-Touch
Dining Facility
Mandatory PPE
for Staff

Sanitisers Placed
at Multiple Areas

Daily Disinfecting
High Touch Areas
0