Gender
Price
Locality

More Filters
Your second home in Pondha
If Pondha is going to be your new hub, a professionally-managed Stanza Living residence should be your address there. Because staying in an old-school PG in Pondha won't do justice to your time here. Settle for nothing less than a place that will become the heartbeat of this exciting part of your life. And we're here to show you why that place can only be Stanza Living, your second home.
What to Look for in a PG in Pondha?
To go through a list of things to look for in a PG in Pondha is a time-consuming task. A fully-furnished room, a welcoming common area outside it, amenities that give you a feeling of comfort and a community that gives you a feeling of belonging, are just a few of the important parts of a complete living experience. And though it's hard to find a PG in Dehradun that fits every criteria, it's not impossible. In Stanza Living, you get not just a PG, but a place that takes care of all your needs, just like at home. And it's waiting to welcome you.
Flat vs PG in Pondha, Dehradun
Getting the freedom to live by your own rules in a flat, only for a few thousand in rent every month. That's the dream, isn't it? But the freedom comes with being chained to monthly expenses like the help's salary, electricity, maintenance, groceries and more. The PG in Pondha, with their low rents and amenities a part of the package, are a much better option for you. But be mindful that in a lot of PGs, you'll have to deal with a boring life and mismanagement of day-to-day activities. Even the low rent will seem like a rip off over there. Fortunately, you have the option to stay with Stanza Living. Over here, you will be a member of a family. And like family, we'll treat every need of yours, from furniture to amenities to even the need for community, as a top priority. And you can have it all at very affordable occupancy rates. Which, when you experience it, will feel like a bargain.
*Denotes starting price. Prices may vary with room occupancy and attributes.
FAQs on PG in Pondha
Do I Have to Pay Any Brokerage While Booking a PG in Pondha?
That depends. Do PGs in Pondha deal exclusively through brokers or do they manage it themselves? But you can avoid that hassle by dealing directly with Stanza Living. And with our fair and transparent rental structure, you'll know what you're paying for.
How Covid-19 Safe is a Stanza Living Residence?
While you are always welcome to our residences, COVID-19 is undoubtedly not. We are pro-actively implementing every measure possible to keep our residents safe. Be it thermal monitoring, having fully-sanitized rooms and common areas, or ensuring appropriate distancing and hygiene while serving meals to our residents. We're prepared. Unlike the small-scale PGs in Pondha, we have professional management and an extensive industry network. And we will use it to keep you safe from the coronavirus.
How Much Will a Fully Furnished PG in Pondha Cost?
Usually, a furnished PG in Pondha will cost you a few thousand rupees in rent. But with Stanza Living you also get the feeling of home. And that is absolutely priceless.
Why is Stanza Living an Ideal Choice when Looking for the Best PG in Pondha?
The reason behind it is that a Stanza Living residence is so much more than just a PG. It's a place that treats you like family. A place that is your second home.
How Safe are PGs in Pondha for Students?
The best people to take you through the security level of the local PG in Pondha, are the local PG in Pondha. But all the Stanza Living residences are equipped with a multi-tier security system which includes CCTV surveillance, biometric entry, and more such measures. For us, anything less than that is not safe enough.
How Can I Rent an Affordable Furnished PG in Pondha?
Good news, you're almost there. All you need to do is to check out our residences and your need for an affordable, furnished PG in Pondha will be fulfilled.
Looking for flats & apartments?
You can book a full apartment now and find flatmates on your own. You can add them as flatmates in the agreement before moving in!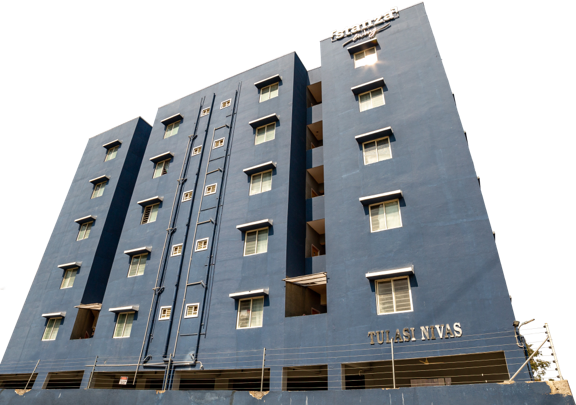 Best-in-class Safety and Hygiene Certified by Equinox Labs
First and foremost, we've adopted thorough hygiene processes over and above our usual protocol.

Residences
Sanitisation

Thermal
Monitoring

Medical & Travel
History
24x7 Quick
Response Teams

Training As per
WHO norms

No-Touch
Dining Facility
Mandatory PPE
for Staff

Sanitisers Placed
at Multiple Areas

Daily Disinfecting
High Touch Areas
0