Gender
Price
Locality

More Filters
Your second home in Mumbai
Breaking news! There's a special PG in Mumbai. And it's waiting for you. But what is it about this PG that makes it so special? Well, for starters, it's more than just a PG in Mumbai. And over here, you won't be treated like a paying guest. You'll get the treatment of a much-loved member of a family. Now, no one can deny that where you feel like family, you feel right at home. And that's exactly what this 'PG' is. It's what thousands of youngsters like you call their second home - Stanza Living.
Things to Remember while Renting a PG in Mumbai
You've probably heard it before - "There's so much to keep in mind while renting a PG in Mumbai". Do the rooms have enough furniture for your requirements? Do the amenities include wifi, AC, power backup, food, and hot water? And that's just the beginning. But do you really need to tick off all these tiny boxes of the list individually? We say, why not tick off that one large box that contains all of these tiny ones? Just remember that your PG ought to be more than a PG. It should feel like home. Because a place like home takes care of all your needs. And no one does it better than your second home, Stanza Living.
Looking for the Best PG in Mumbai? Here's why you should choose Stanza Living
Choosing Stanza Living over another PG in Mumbai will be the easiest choice you make. Let's see why. We can talk about our rooms. Because we think of them as more than rooms. We design them to be a reflection of your vibe, and to be your much-cherished personal space. Other than that, there is our wide range of amenities. It's wide enough to include essential amenities and even those that aren't considered essential. Next, we have resident life. Unlike at other PGs. you will actually have one at Stanza Living. Thanks to regular movie screenings, game nights, and more (conducted with social distancing in place, of course). But, if you think about it, you don't need all these details. One short phrase will do. Choose Stanza Living over any other PG in Mumbai, because it is not just another PG. Choose it because it's your second home.
*Denotes starting price. Prices may vary with room occupancy and attributes.
FAQs on PGs in Mumbai
Why is Living in a PG in Mumbai Cost-Effective?
Rent for a PG in Mumbai is usually an affordable few thousand rupees a month. Yes, a few thousand will get you a room and some basic amenities. Who wouldn't consider that cost-effective, right? But what you don't get is the feeling of home. For that, you'll have to turn to Stanza Living. And it's yours to have for roughly the same amount. Now, is missing out on it a cost you're willing to bear?
How Good are the Food, Laundry, and Room Cleaning Services of PGs in Mumbai?
Each Stanza Living serves only expertly curated meals to their residents and their laundry and room cleaning needs are taken care of by professionals. Will you find a local PG in Mumbai that matches our quality in these departments? Tough chance.
How Safe are PGs in Mumbai During the Corononavirus Outbreak?
Nothing personal, but the local PGs in Mumbai are just not equipped to provide adequate protection against COVID-19. But Stanzens need not worry. They live in a safe and hygienic environment, courtesy of Stanza Living's COVID-19 Combat-Ready Framework. So, what is this framework? Head over here for the details: www.stanzaliving.com/covid-19
How is Stanza Living Different from Local PGs in Mumbai?
You know, it's funny. There are so many PGs in Mumbai that claim to be PG with a difference. But what separates us from the herd of PGs, is that we claim to be more than just a PG. Stanza Living is your second home. And that difference makes all the difference.
What is the Best Way to Search for an Affordable Furnished PG in Mumbai?
You could look up the thousands of PGs in Mumbai listed on the internet and keep disappointing yourself. But if you know what's best for you, you will come back to Stanza Living. So since you're already here, why not go through our residences and pick the one most suited to be your second home?
Which type of PG Accommodation in Mumbai Is better? Single or Multiple Occupancy?
That answer lies with you. Since the type of occupancy depends on the type of person you are. But we can tell you where you'll find all these types of occupancies - Stanza Living.
Why is Stanza Living an Ideal Choice when Looking for the Best PG in Mumbai?
Because of the rooms, the vibrant common areas outside of those rooms, and the amenities provided both inside and outside them. And we can't ignore that tiny detail that Stanza Living is not your everyday PG in Mumbai. It is your second home.
What Should I Check While Booking a PG in Mumbai?
You could start with rooms. Followed by what it's like outside the room. Then the amenities both inside and outside the room. A lot, basically. But if that seems like a lot, just check if that PG in Mumbai gives you the home feeling. If you'd rather not do that either, just pick Stanza Living. Making you feel at home, is our specialty.
How Much Will a Fully-Furnished PG in Mumbai Cost?
A fully-furnished PG in Mumbai will set you back a few thousand rupees a month. Pretty affordable, we'd say. But for the same price, Stanza Living gives you more, in terms of comfort, environment, and amenities. And of course, the priceless home feeling.
How Safe are PGs in Mumbai for Students and Working Professionals?
For us, your safety comes first. That's why we equip every Stanza Living residence with our multi-tier tech-enabled security system. As far as we know, most PGs in Mumbai don't have a security system to match ours. And in our opinion that is just not safe enough.
Looking for flats & apartments?
You can book a full apartment now and find flatmates on your own. You can add them as flatmates in the agreement before moving in!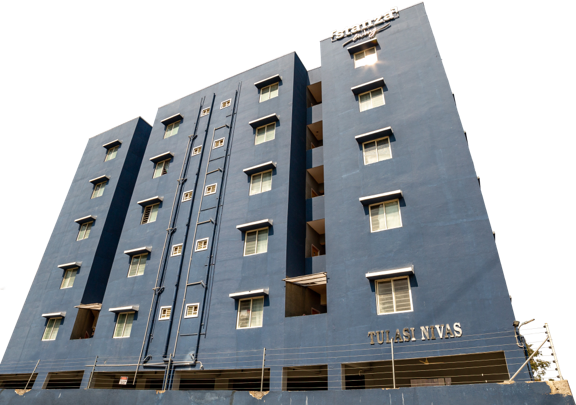 Best-in-class Safety and Hygiene Certified by Equinox Labs
First and foremost, we've adopted thorough hygiene processes over and above our usual protocol.

Residences
Sanitisation

Thermal
Monitoring

Medical & Travel
History
24x7 Quick
Response Teams

Training As per
WHO norms

No-Touch
Dining Facility
Mandatory PPE
for Staff

Sanitisers Placed
at Multiple Areas

Daily Disinfecting
High Touch Areas
0