Gender
Price
Locality

More Filters
Your second home in Kothrud
Breaking news! There's a special PG in Kothrud in Pune And it's waiting for you. Why should you settle for nothing less than a fully-furnished, professionally-managed hostel in Kothrud by Stanza Living residence? Well, the colleges and the bright IT talents give Kothrud its vibrant culture that's perfect for you to dive into. But to move into a PG in Kothrud right now? Wrong move, buddy. The smart thing to do would be to find a place that adds memories and excitement to this phase of your life. And we can tell you for sure that that place can only be Stanza Living, your second home not just any PG in Kothrud. It's a place that won't let you miss home.
Points to Remember while Renting a PG in Kothrud, Pune
Judging by what most people say, you will need plenty of mental space to remember all things to look for in a PG in Pune, Kothrud. While renting a PG in Kothrud, one thing is crucial to remember - you deserve more than just a PG in Pune. After all, as we all know, paying guest accommodation will never be more than just a place to stay in. You should live in a place where every day feels like a day to remember. And that happens when the place you stay in feels like home - like a Stanza Living residence. When your Hostel in Kothrud gives you the feeling of your home then you won't find it difficult to stay for long.
What to Choose Flat or Paying Guest (PG) in Kothrud?
Choosing a PG in Kothrud or a Flat is all your decision and both have their own pros and cons. These days, many youngsters like yourself are attracted to living in flats. Partly because of the affordable monthly rent, but also because of the allure of freedom. But with the additional expenses, like the domestic help's salary, the electricity bill, the wifi charges, groceries, means the freedom doesn't come for free. This is usually a hint to opt for a PG instead, with its low rent and included amenities. But when you have to deal with the boring life and the day-to-day mismanagement of the typical PGs in Kothrud, even the low rent seems like a rip-off.
Yes, flats and PGs in Kothrud can make you lose your mind. But that doesn't mean you should lose hope. With Stanza Living, you'll get to live in a fully furnished, thoughtfully designed residence. And besides all the amenities you desire, you'll also get a memorable and exciting living experience that will stay with you forever. And all of it can be yours for very affordable occupancy rates. Though, truth be told, the experience is truly priceless. Since you are moving to Pune, check out these best places to visit in Pune.
Want to check out other localities in Pune before deciding? Well, have Stanza Living residences there too.
How is Stanza Living Ensuring their Residents Stay Safe from Covid-19?
In all of our residences spread across the country, there is no room for COVID-19. We are not allowing ourselves to relax even one bit. Every measure possible, be it regular residence sanitization, thermal monitoring, social distancing, contact-free distribution of services, is important and has been implemented. While most of the PGs in Kothrud have asked their residents to vacate, we have stuck to our motto of 'Residents First'. For us, you're a member of our family, and we'll protect you from the coronavirus like one.
If you are moving to Pune for the first time, then check out the cost of living in Pune.
*Denotes starting price. Prices may vary with room occupancy and attributes.
FAQs on PG in Kothrud
How Safe are Girls Hostel in Kothrud?
When it comes to the safety of the girl's hostel in Kothrud, you'll have to rely on the PGs for that information. At Stanza Living, however, the security system is robust and tech-enabled. There's biometric security, CCTV surveillance, and a 24*7 security guard on duty. Since we consider you a member of the family, we'll protect you like one.
What to Look While Renting a PG in Kothrud?
Look for reasons to not rent one. Because you, my friend, deserve nothing less than your second home - Stanza Living.
How Good are the Food, Laundry, and Room Cleaning Services of PGs in Kothrud?
Let's break that down. Do some PGs in Kothrud have food, laundry, and room cleaning services? Yes of course. However, at Stanza Living, anything less than expertly curated meals, and a professional laundry and housekeeping staff is not acceptable. Compared to that, a PG is definitely not 'good'.
Best PG in Kothrud with Single Occupancy?
The question you should be asking is - is any PG in Kothrud or a hostel in Kothrud, be it single double or triple occupancy, is good enough for you? Absolutely, most definitely, not! When you leave home and come to this city, you deserve better than a PG. You deserve a second home. Like Stanza Living.
Choose your second home from these residences that leave even any best PG in Kothrud behind.
Why is Stanza Living an Ideal Choice and Not a PG in Kothrud?
What makes Stanza Living a better choice than a PG in Kothrud, is that it's not a PG in Kothrud. It's a place that welcomes you like family and becomes a key part of your life in this city. In other words, it becomes your second home.

Video

3D Tour
Cairns House


UNISEX

Triple, Quadruple

High-Speed WIFI, Laundry Service and +6 more
Akron House

MALE

Double, Triple, Quadruple

High-Speed WIFI, Professional Housekeeping and +7 more
Looking for flats & apartments?
You can book a full apartment now and find flatmates on your own. You can add them as flatmates in the agreement before moving in!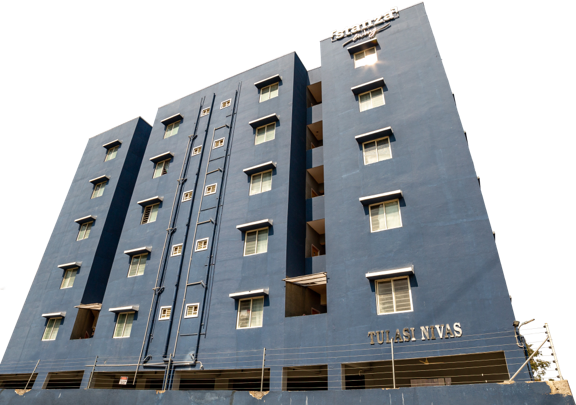 Gladstone House

FEMALE

Single, Double

High-Speed WIFI, Laundry Service and +3 more
Best-in-class Safety and Hygiene Certified by Equinox Labs
First and foremost, we've adopted thorough hygiene processes over and above our usual protocol.

Residences
Sanitisation

Thermal
Monitoring

Medical & Travel
History
24x7 Quick
Response Teams

Training As per
WHO norms

No-Touch
Dining Facility
Mandatory PPE
for Staff

Sanitisers Placed
at Multiple Areas

Daily Disinfecting
High Touch Areas
0