Gender
Price
Locality

More Filters
Your second home in Hyderabad
A special PG in Gachibowli, Hyderabad has opened its doors for you. But what is it about this PG that makes it so special? You might wonder. Simply put, there is no other place like it. In fact, to consider it a PG accommodation feels like sacrilege since it is like home. A home offers something beyond housing; it offers a feeling of belonging. You'll be part of one big, happy family. Now, no one can deny that where you feel like family, you feel right at home. And that's exactly what this hostel in Gachibowli, Hyderabad is. You'd call it a place like home. And that's what this 'PG in Gachibowli' is. It's your one and only second home - Stanza Living.
Things to Consider While Renting a PG in Gachibowli
You might have heard that there's a lot that you should remember while renting a PG in Gachibowli. From Big rooms, services, modern utilities, is that all you could think of? But with so much to look for, you will definitely end up missing quite a few things. Doing this for every PG in Gachibowli is quite hectic. So, why not just look for that one thing that encompasses it all? There is one Best PG in Hyderabad that covers it all. Remember to look for a ladies/gents hostel in Gachibowli that feels like home. Because home will take care of all your needs. And no one does it better than your second home, Stanza Living.
Best Boys & Girls PG in Gachibowli, Hyderabad - Stanza Living
You won't like hearing it. Because the list of things to look for in a hostel in Gachibowli is a long one. It's not limited to just the kind of rooms and furniture, the types of amenities, and if they include wifi, power backup, AC, food, and much more. And if you think that's hard to do once, sorry to tell you, but you'll have to do it at every potential paying guest accommodation. At Stanza Living, however, there's no room for all that hassle. When you visit, you can leave that checklist at home. We pride ourselves on knowing every single need of yours. We have considered all the points that one should need whether it is about renting a PG in Gachibowli, Hyderabad. Next on the list is life at Stanza living. Thanks to our one-of-a-kind community program that includes movie screenings, game nights, and more (all conducted within social distancing norms), your life over here won't be limited to those rooms we talked about earlier. But, if you think about it, you don't need all these details. One short phrase will do. Choose Stanza Living over any other PG near Gachibowli, because it is not just another PG. Choose it because it's your second home.
Want to check out other localities in Hyderabad? Well, we have residences there too.
Places in and around Gachibowli: Greenland Colony, Nanakram Guda, Kondapur, Financial District.
*Denotes starting price. Prices may vary with room occupancy and attributes.
FAQs on PG in Gachibowli
How can I find a Cost-effective PG near Gachibowli, Hyderabad?
Almost every PG near Gachibowli you find will have basic amenities for the few thousand they'll charge. No doubt that's cost-effective. Here at Stanza Living, you get all that. In order to develop a sense of bonding, we have various social events aligned at stanza. It won't come at an extra cost. But it certainly is effective.
Name one Best PG in Gachibowli, Hyderabad for Girls
You'll never run short of
PG in Gachibowli for girls
. But when we're talking of the best ones, only one stands out. And that is none other than Stanza Living.
Which type of PG Accommodation in Gachibowli Is better? Single or Multiple Occupancy?
The best person to answer that question is you. The type of occupancy you need to thrive depends on the type of person you are. But even if you've not decided on one, you can come to Stanza Living. Because we offer single sharing rooms in Gachibowli & Multi Sharing too.
Check out the list of our residences that top even the best PG in Gachibowli preferable for both boys and girls:
Which are the Best Boys hostel in Gachibowli?
The best
PGs in Gachibowli for girls
are the ones that are more than just PGs.The best ones are those that, in a strange city, give you a familiar feeling of home. Like Stanza Living.
What Makes is Stanza Living the Best PG in Gachibowli?
What makes us champions? It's making sure every box is ticked, every time. That's why Stanza Living also comes out on top. From the bed you sleep on to the entertainment zone where you could stay up all night, everything has to be the best when it comes to Stanza Living PG in Gachibowli.
What Type of Covid-19 Measure is taken by PGs in Gachibowli?
With all due respect to the PGs in Gachibowli, most of them are too small-scale to provide proper protection against COVID-19. Thankfully, if you become a Stanzen, you'll have a safe and hygienic environment to live in, thanks to our COVID-19 Combat-Ready Framework.

Video

3D Tour
Exeter House

FEMALE

Double, Triple, Quadruple

High-Speed WIFI, Professional Housekeeping and +7 more
Looking for flats & apartments?
You can book a full apartment now and find flatmates on your own. You can add them as flatmates in the agreement before moving in!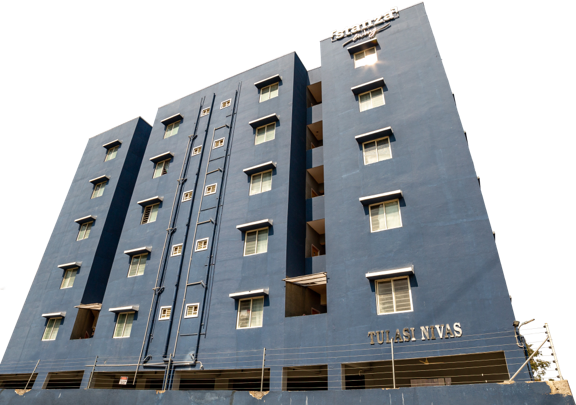 Best-in-class Safety and Hygiene Certified by Equinox Labs
First and foremost, we've adopted thorough hygiene processes over and above our usual protocol.

Residences
Sanitisation

Thermal
Monitoring

Medical & Travel
History
24x7 Quick
Response Teams

Training As per
WHO norms

No-Touch
Dining Facility
Mandatory PPE
for Staff

Sanitisers Placed
at Multiple Areas

Daily Disinfecting
High Touch Areas
0