Gender
Price
Locality

More Filters
Your second home in Poonamallee
Congratulations, we have discovered a different PG in Poonamallee, for youngsters like you. It's different. You won't find another PG like it. Truth be told, it feels more like home than a PG. Now, no one can deny that where you feel like family, you feel right at home. And that's exactly what this 'PG' is. It's Stanza Living, a second home to many youngsters like yourself. And it can be yours as well.
Things to Look for While Renting a PG in Poonamalle
You could write an entire essay on the things to look for in a PG in Poonamallee. A vibrant yet cozy space, daily essentials, a feeling of home, are only a part of the entire experience. Now, given the limited resources of most PGs in Chennai, they tend to make adjustments to their offerings. But that doesn't mean you have to readjust your expectations. In Stanza Living, you will get not just a PG, but a place that takes care of all your needs, just like at home. And it's eager to welcome you.
If you are moving for the first time to Chennai, check out the cost of living in Chennai.
Best Boys and Girls PG in Poonamallee
If you choose Stanza Living, you'll be one of the thousands of youngsters who've picked it over a local PG in Poonamallee. And this is why. We can talk about our rooms. Because we think of them as more than rooms. We design them to be a reflection of your vibe, and to be your much-cherished personal space. Let's move on to the amenities. Each one of our many amenities, actually. They include everything from what is considered essential to those that are considered non-essential.
Then we have the resident culture. Unlike at most other PGs, culture actually exists at Stanza Living. You will experience it during our many movie screenings, game nights and other community events (and don't worry, all are conducted with social distancing practices in place). But, if you think about it, you don't need all these details. One short phrase will do. Choose Stanza Living over any other PG in Poonamallee, because it is not just another PG. Choose it because it's your second home.
*Denotes starting price. Prices may vary with room occupancy and attributes.
FAQs on PG in Poonamallee
Are There Any Good PGs near me with Single Occupancy?
Single, double, or triple occupancy, there's a PG in Poonamallee around every corner. And some of them can be considered good. But to be the best option for you, a PG has to be more than a PG. Just like Stanza Living is.
What are the Basic Amenities Provided by a Hostel in Poonamallee?
In most PGs in Poonamallee, you'll find hot water, food, and air conditioning. Basic amenities that, let's be honest, are too basic. You should stay in a place that values all your needs and has an amenity for each one of them. You should stay in Stanza Living, basically.
Which are the Best Boys PG in Poonamallee?
A PG in Poonamallee for gents is best for you, only if it's the best-paying guest accommodation overall. That's why at every Stanza Living residence, the goal is to keep everything at 100%. That makes Stanza Living the topmost choice for everyone, boys as well as girls.
What is the Best Way to Search for an Affordable, Furnished PG in Poonamallee?
We can help you with that. All you need to do is to check out our residences and your need for an affordable, furnished PG in Poonamallee will be fulfilled.
Which are the Best PGs for Ladies in Poonamallee?
You'll never run short of PGs for ladies in Poonamallee. But when we're talking of the best ones, only one stands out. And of course, that is Stanza Living.
Are Stanza Living Residences Safe from COVID-19?
You're taking the COVID-19 pandemic as seriously as we are. Basically, our approach is simple. There are no unnecessary measures. Everything (from thermal monitoring to full sanitisation of the residences to the contact-free distribution of meals) is equally important. The advantage we have over a small PG in Poonamallee is our scale and network. But that means greater responsibility to protect you from the coronavirus. And we don't shy away from our responsibilities to you.
Looking for flats & apartments?
You can book a full apartment now and find flatmates on your own. You can add them as flatmates in the agreement before moving in!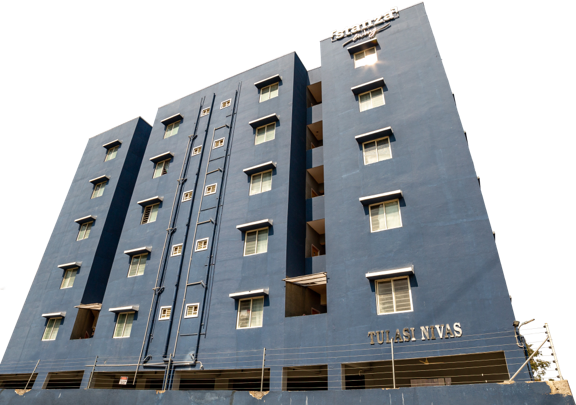 0