Gender
Price
Locality

More Filters
Your second home in Sohna Road
You can stop your search. We have an awesome PG in Sohna Road for you. But what makes it an 'awesome' PG? It's the fact that it is not any ordinary Hostels on Sohna Road. And you will be more than just a paying guest over here. You'll be one of many like-minded youngsters who'll feel like family. Now, how else would you describe a place where you get the family feeling? You'd say it's a place that feels like home. And that's what this 'PG' is. It's a place that won't let you miss home, by being your second one. It's Stanza Living.
Things to Check While Renting a PG in Sohna Road
Going by popular opinion, the things to remember while renting a PG accommodation in Sohna Road is like memorizing algebra equations in school. There's a lot to keep in mind. There's the room and its furniture. The food, wifi, AC, power backup, and other amenities. All form a list that is really long. But do you really need to tick off all these tiny boxes of the list individually? We say, why not tick off that one large box that contains all of these tiny ones? You just need to remember to look for a PG that feels more like home. Because just like home, it will take care of every single need. And that's why we say that, at Stanza Living, you won't just find a PG. You'll find a second home.
Best PG in Sohna Road, Gurgaon
If you choose Stanza Living, you'll be one of the thousands of youngsters who've picked it over a local PG in Sohna Road. And this is why. The first difference you'll notice is in the rooms. With us, your room will not be just a space to sleep and rest in. It will be your pad, your hub, your personal space. Besides the physical rooms, we also have room for all your needs. Our list of amenities includes essentials and even those that others don't consider essential enough, so you can truly experience what comfortable living is. Next, we have resident life. Unlike at other PGs. you will actually have one at Stanza Living. Thanks to regular movie screenings, game nights, and more (conducted with social distancing in place, of course). Now, we could go on and on. There are many more reasons to choose Stanza Living over a typical PG in Gurgaon. But we'll just leave it at this - choose Stanza Living if, instead of a PG, you want to live in a home. Or, as we call it, your second home.
Also, Check out a flat for rent in Gurgaon.
*Denotes starting price. Prices may vary with room occupancy and attributes.
FAQs on PG in Sohna Road
What is the Cost of Living in PG in Sohna Road?
So you can stay in a hostel in Sohna Road for just a few thousand a month. That rent gets you a basic room to stay in and some basic amenities to go along with it. That's textbook cost-effectiveness. But what's missing is a home feeling. That's something you'll find only in a Stanza Living residence. And given that our occupancy rates are equally affordable, giving up on it is a cost that you can't afford to bear.
Best Furnished Apartments for Rent in Sohna Road are:
How Good are the Food, Laundry, and Room Cleaning Services of PGs in Sohna Road?
If you choose to live at Stanza Living, your tummy will be satisfied with our delicious, nutritious meals, and your room and clothes will be cleaned by our professional housekeeping and laundry services. Will you get such a professional level of quality at local hostels in Sohna Road? Simply put, no. Let's just say, there's a reason they're called 'local'.
How Safe are Hostels in Sohna Road During the Covid 19?
Not very, sorry to say. In lieu of COVID-19, many PGs in Sohna Road have had to ask residents to leave for their own safety. But you won't have to worry about them, when you stay in a safe and hygienic Stanza Living residence, with the protection of our COVID-19 Combat-Ready Framework. Read all the details here:
www.stanzaliving.com/covid-19
.
How is Stanza Living Better than Local PGs in Sohna Road?
So most PGs accommodation in Sohna Road will try to grab your attention by claiming that they are the 'best', 'special', and 'first-class' options. But we're not part of that race. We're on a different track altogether. Since Stanza Living is no plain-old PG. It's your second home. And that makes all the difference.
How to Search for a Women's PG Near Me?
You could search online for a 'PG in Sohna Road' and search all of the thousands upon thousands of results. The simpler way is to just pick one of the Stanza Living residences. Because, if you have high expectations, as you should, only your second home can meet them.
Shifting localities or out of the city, need help in moving your stuff. Check out Top Packers and Movers in Gurgaon.
Which type of PG Accommodation Is better? Single or Multiple Occupancy?
If you're a people person, then multiple. If you cherish privacy, then single. It all depends on who you are. The only thing we can tell you for sure is that you'll find each of these options at Stanza Living.
How Much Will a Fully-Furnished Boys PG in Sohna Road Cost?
The going rate for a fully-furnished PG in Sohna Road is in the range of a few thousand a month. But for the same price, Stanza Living gives you more, in terms of comfort, environment, and amenities. And of course, the priceless home feeling.
How Safe are Ladies PGs in Sohna Road?
For your safety, every Stanza Living residence is equipped with our multi-tier tech-enabled security system. And in our book, only if a PG in Sohna Road provides equal measures of security, can it be considered safe enough.
Looking for flats & apartments?
You can book a full apartment now and find flatmates on your own. You can add them as flatmates in the agreement before moving in!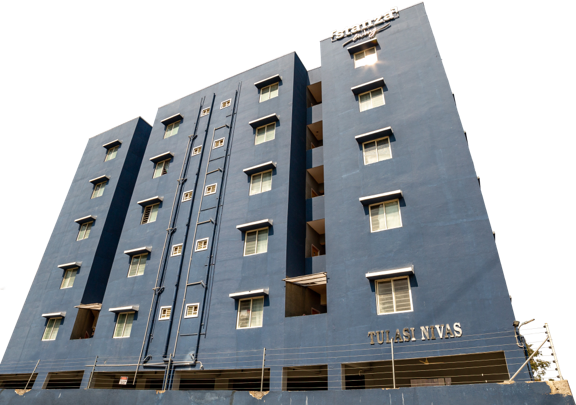 0