Gender
Price
Locality

More Filters
Your second home in Nizampet
Stanza Living's modern yet home-like accommodation ought to be your final destination when life takes you to Nizampet. Home to many educational institutes, Nizampet is the ideal home for a youngster like you. But to book a room in an old PG in Nizampet will be the wrong start to your time spent here. What you need is a place that you'll go back on as a defining part of this chapter of your life. And trust us when we tell you this. That place is not just any PG in Nizampet but your second home. A PG in Hyderabad will always be just a place to stay in. A Stanza Living residence, your second home, is a place to live in.
Flat vs PG in Nizampet
Living in a flat with affordable monthly rent. And living by your own rules, with the freedom to live by your own rules. It seems too good to let go of. But with the additional expenses, like the domestic help's salary, the electricity bill, the wifi charges, groceries, means the freedom doesn't come for free. Then, the PG in Nizampet, with their low rents and basic amenities, start to seem like the best option for you. But you get a rude shock when you have to do the running around for the essentials that a PG doesn't provide. It'll feel like the PG should pay you for staying in it.
Yes, flats and PGs in Nizampet can make you lose your mind. But that doesn't mean you should lose hope. When you opt for a Stanza Living residence, you not only get a fully-furnished residence and the luxury of chilling while all your daily essentials are taken care of. You also get to be part of the Stanza Living family. All of it is yours to have for very economical occupancy rates. But honestly speaking, you can't put a price on such an experience.
What to Look for in a PG in Nizampet?
The things you should look for in a PG in Nizampet, are usually missing in a paying guest. The bedroom which you want to be vibrant and cozy is dull and bare minimum. The daily essentials you expect are not considered essential by the PG. And the feeling of home that you miss in a strange city is also strangely missing. But thankfully, you don't have to settle for a PGs in Nizampet. You can opt for a place that understands that you have aspirations and works to not just meet, but surpass them. That place is Stanza Living, your second home.
Want to check other localities? Here is the list of our residences in Hyderabad:
What Measures is Stanza Living taking for their Residences Against Covid-19?
You are always welcome at Stanza Living, but COVID-19 is not. That's why we've taken several measures to protect all our residents. From fully-sanitized rooms and common areas to practicing social distancing even in everyday tasks like serving meals in the dining area. Unfortunately, many PGs in Nizampet have asked their residents to vacate. But true to our resident-first motto, we feel it's our responsibility to keep your safe from the coronavirus. And keep you safe, we will.
If you are moving here for the first time, check out the cost of living in Hyderabad.
*Denotes starting price. Prices may vary with room occupancy and attributes.
FAQs on PG in Nizampet
Is there Any Good Single Room PG in Nizampet?
Single, double, and triple occupancy, PGs in Nizampet are plenty. But are any of them good enough for you? There's only one answer - NO! The only place that's an adequate replacement when you leave home for this city, is a second one - Stanza Living.
How is Stanza Living Different from Local PGs in Nizampet?
A PG in Nizampet will never be more than a place you stay in. But a Stanza Living residence is your second home, a place you'll look forward to returning to every day. And that is the difference that makes all the difference.
>> Check: PG in Nizampet for Boys
Do I Have to Pay Any Brokerage while Booking a PG Room in Nizampet?
Yes and no. It depends on the route you take to book a PG in Nizampet. But when picking a Stanza Living residence, you get to deal directly with us. And with our fair and transparent rental policy, you know what you're paying for.
How Good are the Food and Other Services of PGs in Nizampet?
We won't deny it. Lots of PGs in Nizampet do provide food with laundry and room cleaning services. But unless they are of the quality standards that are set by the Stanza Living F&B team and our professional housekeeping and laundry staff, they're not even acceptable, forget being good.
Why is Stanza Living an Ideal Choice for Renting a PG Accommodation in Nizampet?
To put it bluntly, it's because Stanza Living is not just a PG in Nizampet. You won't look back at it as the place you stayed in. You'll remember it fondly as your second home.
Looking for flats & apartments?
You can book a full apartment now and find flatmates on your own. You can add them as flatmates in the agreement before moving in!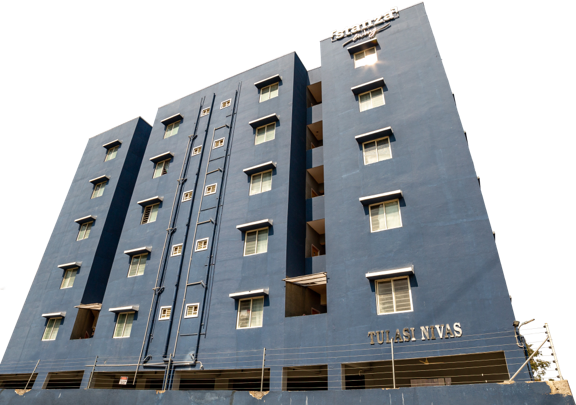 0