Gender
Price
Locality

More Filters
Your second home in Bengaluru
The anxiety of finding the perfect male or female PG near Ecospace, Bengaluru, with fully-furnished rooms, proper meals, and tight security, can make you lose sleep. And that doesn't sound right for your stay in a city that seldom sleeps. That's why we're here to help. For starters, we have residences that offer everything any local male PG or female PG offers, and much more. Food is taken care of in our residences and believe us, you'll feel right at home once you taste it. You can easily make friends with your fellow Stanzens, hang out with them and explore the city. And as for feeling homesick, we're sorry we can't bring your family here but with our high-speed wifi, we will make sure their faces don't freeze in the middle of a group call.
Things to Remember while Renting a PG near Ecospace
If you're smart enough to research about pgs near Ecospace (we know you are, since you're reading this), you'll know where to go and what to avoid. PGs in shady areas - big no. Male PGs or Female PGs in Bangalore that don't provide meals - No, thank you. Female PGs with unhygienic washrooms - Run! Instead, look for modern co-living options, where you are your own boss. Where you don't need to cook your own meals and can unplug whenever you want to. A place that's prepared with a COVID-19 Combat-Ready Framework. A place that feels fancy but doesn't strip off your wallet.
Best PG near Ecospace - Stanza Living
If you want the best PG near Ecospace, first answer this - Like being surrounded by people but also love your "Me time"? We feel you, man. That's why our residences are well-balanced; from dope common areas and dining halls to private 1/2/3 seater-rooms, so that you can live life, king size. If that's not enough, we also have professional housekeeping, unlimited internet, movie nights and focus zones - whatever you need, whenever you need. We don't think like a typical PG near Ecospace. We don't think of you as a paying guest. We think of you as family.
Check out the Best Ladies/Gents PGs near Bangalore:
*Denotes starting price. Prices may vary with room occupancy and attributes.
FAQs on PG near Ecospace
Are There Any Good PGs near Ecospace with Single Occupancy?
Single, double, or triple occupancy, the best person to answer that question is you. But a PG near Ecospace is not hard to find. And some of them certainly are good. But the only place good enough for you is the best. And that is a place that is so much more than just a paying guest accommodation- Stanza Living.
Which are the Best Gents PG near Ecospace, Bangalore?
There's a
PG near Ecospace for gents
on almost every street. But finding the best ones is hard because they don't look like normal paying guest accommodations. And what better example than Stanza Living. Not just a paying guest, not just a place to stay, it's your second home.
What is the Cost of a Fully Furnished Ladies PG near Ecospace?
A fully-furnished
ladies PG near Ecospace
will set you back a few thousand rupees a month and will get a room with basic furniture and amenities. Pretty affordable, we'd say. But when Stanza Living provides you all the comforts of home which you've left behind, the choice is clear.
Given below is the list of best shared or single occupancy luxury PGs near Ecospace:
How Good is the Food and Room Cleaning Services of PGs near Ecospace?
When it comes to room cleaning and laundry services, and food, we at Stanza Living insist on the highest professional standards. Will you get such a professional level of quality at local PGs in Ecospace? Simply put, no. Let's just say, there's a reason they're called 'local'.
Are PGs near Ecospace Safe from COVID-19?
Unfortunately, most PGs near Ecosapce lack the resources or appropriately trained staff to ensure safety during these times. But we have done our bit at Stanza Living, with our COVID-19 Combat-Ready Framework.
How Safe are PGs near Ecospace for Students?
Well, at Stanza Living, we insist on having our multi-tier tech-enabled security system at every one of our residences. As far as we know, most PGs near Ecospace don't have a security system to match ours. And in our opinion that is just not safe enough.
Bochum House


UNISEX

Single, Double

High-Speed WIFI, Professional Housekeeping and +7 more
Rimini House


UNISEX

Single, Double, Triple

High-Speed WIFI, Professional Housekeeping and +7 more
Looking for flats & apartments?
You can book a full apartment now and find flatmates on your own. You can add them as flatmates in the agreement before moving in!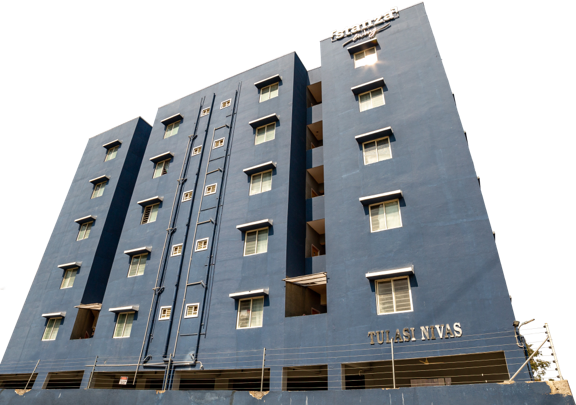 Best-in-class Safety and Hygiene Certified by Equinox Labs
First and foremost, we've adopted thorough hygiene processes over and above our usual protocol.

Residences
Sanitisation

Thermal
Monitoring

Medical & Travel
History
24x7 Quick
Response Teams

Training As per
WHO norms

No-Touch
Dining Facility
Mandatory PPE
for Staff

Sanitisers Placed
at Multiple Areas

Daily Disinfecting
High Touch Areas
0