Gender
Price
Locality

More Filters
Your second home in Pune
You can stop your search. We have a special PG in Aundh for you. But what is it about this PG that makes it so special? in the special PG accommodation mean? It means that it is like no other PG in Aundh. And over here, you won't be treated like a paying guest. You'll get the treatment of a much-loved member of a family. Now, what would you call a place where you feel like family? You'd call it a place like home. And that's what this 'PG' is. It's a place that won't let you miss home, it's not just a hostel it's your second one. It's Stanza Living.
What to Consider While Renting a PG in Aundh
Looking for that missing sock is easier than looking for the things a PG accommodation in Aundh must-have. Everything from the room and its furniture to amenities like wifi, AC, power back-up, and food is part of this long list. That's just the beginning of a long list. But do you really need to spend hours and hours checking everything? we know what you need for a PG near Aundh We say, why not tick off that one large box that contains all of these tiny ones? Always remember that only a PG in Pune that is less than a paying guest accommodation and more like a home is what you need. Because home is where all these needs of yours are priority number one. What else can you find such a 'home' than your second one, Stanza Living?
Best Girls and Boys PG in Aundh - Bangalore
Compared to the local PG near Aundh, Stanza Living is the obvious choice. And here's why it's so obvious. If you choose Stanza Living, you'll be one of the thousands of youngsters who've picked it over a local PG in Aundh. Which are more than just rooms. We believe your room shouldn't be just a place to sleep and rest in, but a place that you'll love to return to. They are your personal space, designed to reflect your personality and lift your spirits. On top of that, we have many amenities. And by many, we mean 'many'. Not just the basics, but everything you need to not have any needs left. Next on the list is life at Stanza living. Thanks to our one-of-a-kind community program that includes movie screenings, game nights, and more (all conducted within social distancing norms), your life over here won't be limited to those rooms we talked about earlier. Now, these are just three reasons off the top of our heads. There are many more reasons to choose Stanza Living over a PG in Aundh. But to say it in one sentence - Choose Stanza Living because it is not just a PG in Aundh, but your second home. If you want to hang out with friends or family in Pune, then check out these best cafes in Pune.
Is Aundh not working for you? No problem we got paying guest accommodations in other parts of Pune too.
Places in and around Aundh: Vidya Vilas Colony, Shirine Garden, Raagdari Society, Parihar Chowk, Sonawadi.
*Denotes starting price. Prices may vary with room occupancy and attributes.
FAQs on PG in Aundh
Is Renting a PG in Aundh Cost-Effective?
Generally, PGs in Aundh are not very expensive. Their monthly rent is usually a few thousand rupees. In that much, you get to live in a basic room and enjoy some basic amenities. That's why it's considered cost-effective. But you will miss certain things there. Most importantly, the feeling of home. It's something only found in a Stanza Living residence. And it's yours to have for roughly the same amount. Now, is missing out on it a cost you're willing to bear?
What is the Best Way to Search for an Affordable PG near me?
You could search online for a 'PG near me' and search all of the thousands upon thousands of results. But if you know what's best for you, you will come back to Stanza Living. So since you're already here, why not go through our residences and pick the one most suited to be your second home?
Which are the Best Ladies PG in Aundh Pune?
There are good PGs for ladies in Aundh and are many in number. Some are better than others. But the best option for you? Well, we all know what that is. And of course, that is Stanza Living.
How Good are the Food Services of PGs in Aundh?
Each Stanza Living serves only expertly curated meals to their residents and their laundry and room cleaning needs are taken care of by professionals. You can try finding a local PG in Aundh that provides such quality. But we must warn you - it's going to be tough.
Here is the list below of the best PGs in Aundh, most suitable for both ladies and gents:
Which are the Best PGs near Aundh?
There is no shortage of
PGs in Aundh for males
. But the best ones are in short supply, as they're more than just paying guest accommodations. Quite like Stanza Living, which is not just a place to stay, but a second home.
How Secured are PGs in Aundh During the Coronavirus Outbreak?
How else do we put it, but to say that most PGs in Aundh are just not equipped to handle the COVID-19 crisis? But you won't have to worry about them, when you stay in a safe and hygienic Stanza Living residence, with the protection of our COVID-19 Combat-Ready Framework.
How Safe are Girls Hostels in Aundh?
For your safety, every Stanza Living residence is equipped with our multi-tier tech-enabled security system. And in our book, only if a PG in Aundh provides equal measures of security, can it be considered safe enough.
How do I look for a good PG near me?
We have some good news. You can get something more than just a "good PG". And you won't even have to look around that much. Just go through the Stanza Living residences and book your bed now. You're already here. So don't look back.
Tel Aviv House


UNISEX

Double, Triple

High-Speed WIFI, Professional Housekeeping

Video

3D Tour
Wigan House


UNISEX

Double, Quadruple

High-Speed WIFI, Professional Housekeeping and +4 more

3D Tour
Henderson House


UNISEX

Single, Double, Triple

High-Speed WIFI, Professional Housekeeping and +4 more
Looking for flats & apartments?
You can book a full apartment now and find flatmates on your own. You can add them as flatmates in the agreement before moving in!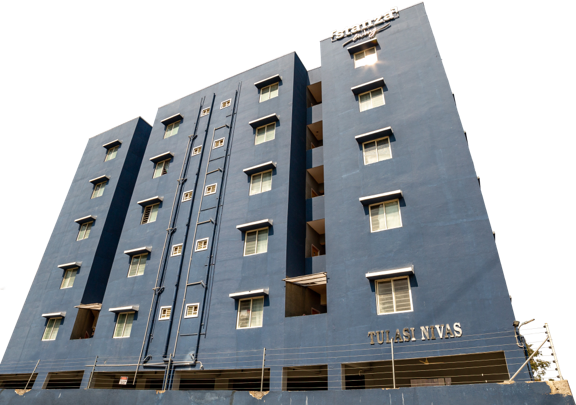 Best-in-class Safety and Hygiene Certified by Equinox Labs
First and foremost, we've adopted thorough hygiene processes over and above our usual protocol.

Residences
Sanitisation

Thermal
Monitoring

Medical & Travel
History
24x7 Quick
Response Teams

Training As per
WHO norms

No-Touch
Dining Facility
Mandatory PPE
for Staff

Sanitisers Placed
at Multiple Areas

Daily Disinfecting
High Touch Areas

Map View