Gender
Price
Locality

More Filters
Your second home in Chennai
Showing 16
Hostels in Chennai
You can stop your search. We have a special hostel in Chennai for you. But what's the reason behind this hostel accommodation in Chennai? So different that nothing else is comparable. We'd say calling it a mere Hostel sounds unfair because it is much more than that. Here you won't live the life of a paying guest over here. You'll be pampered as a member of a family. Now, how else would you describe a place where you get the family feeling? Well, that's exactly what this Hostel is. Now, feeling like part of a family is another way of saying this place feels like home. Because that's what it is. It's your one and only second home - Stanza Living.
Points to Look While Renting a Hostel in Chennai
You might have heard that there's a lot that you should remember while renting a hostel in Chennai. You'll need to carry a pen and paper with you. Everything from the room and its furniture to amenities like wifi, AC, power back-up, and food is part of this long list. But why get jumbled up in these checklists? We say that you should look for that one thing that covers everything else. You just need to remember to look for a Hostel in Chennai that feels more like home. Because just like home, it will take care of every single need. And a perfect example of that is Stanza Living, your second home. If you are looking for a girl's hostel in Chennai or a ladies Hostel in Chennai, you should look for security as a priority. If you are a student and looking for Chennai as your next step for education check out the list of these top engineering colleges in Chennai.
Here is the list of popular localities for renting the best Hostels in Chennai:
Best Gents & Ladies Hostel in Chennai
It's no secret that Stanza Living is unlike any other hostel in Chennai. You can't compare us to the others., you'll be one of the thousands of youngsters who've picked it over local gents and ladies hostels in Chennai. And this is why. For starters, there are our rooms. Which are nothing like rooms elsewhere, but a vibrant space with a splash of your own personality. Let's move on to the amenities. Each one of our many amenities, actually. They include everything from what is considered essential to those that are considered non-essential that are non-existent in a typical Hostel or PG in Chennai. Next, we can talk about life at Stanza Living. To keep it short, there actually is one at Stanza Living. Thanks to the movie screenings, game nights, and other community events and workshops (all conducted with social distancing practices in place, of course). Now, we could go on and on. There are many more reasons to choose Stanza Living over a typical men's and women's Hostel in Chennai. But we'll just leave it at this - choose Stanza Living if, instead of a Hostel in Chennai, you want to live in a home. Or, as we call it, your second home.
*Denotes starting price. Prices may vary with room occupancy and attributes.
FAQs on Hostels in Chennai
Which is the Best Women's Hostel in Chennai?
There are many girls' hostels in Chennai. But when it comes to being the best option for you, only one name comes to mind. And that, as you might have guessed, is Stanza Living. Here are our accommodations that top even the best Hostels in Chennai:
Best Men's Hostels in Chennai?
men's hostel in Chennai can be considered the best only when it's actually the best. Now, if you were to visit any Stanza Living residence, you'll find that ring true in everything we do. All our residences can be nothing but the best, be it for boys or girls.
Are Hostels in Chennai Cost-Effective?
Hostels in Chennai are considered affordable. For rent, they only charge a few thousand rupees a month. In return, you get a basic room with basic furniture and basic amenities. Cost-effective, basically. But the one thing you won't get in return is the feeling of home. The good news is that there is a place you can find that - Stanza Living. And given that our occupancy rates are equally affordable, giving up on it is a cost that you can't afford to bear.
How Good are the Services of Hostels near me?
Lots of local Hostels in Chennai do provide food with laundry and room cleaning services. But when compared to our delicious, nutritious meals and professional laundry and housekeeping services.
How is Stanza Living is considered the best hostel in Chennai?
Stanza Living is different Because our rooms are not just rooms. Our essential amenities include even non-essential ones. As for our residence culture... well, we actually have one. And yes, there is also the fact that Stanza Living is more than just a Hostel in Chennai which makes it the best hostel in Chennai compared to other hostels in Chennai. The fact that it is your second home.
How Safe are Working Ladies Hostel in Chennai?
Stanza Living Focuses more on its security, we insist on our multi-tier tech-enabled security system. As long as the local hostel accommodation in Chennai is not providing security at this level, they are not safe enough.

Video

3D Tour
Eugene House


UNISEX

Double, Triple

High-Speed WIFI, Professional Housekeeping and +6 more
Taunton House

MALE

Single, Double, Triple

High-Speed WIFI, Laundry Service and +6 more
Looking for flats & apartments?
You can book a full apartment now and find flatmates on your own. You can add them as flatmates in the agreement before moving in!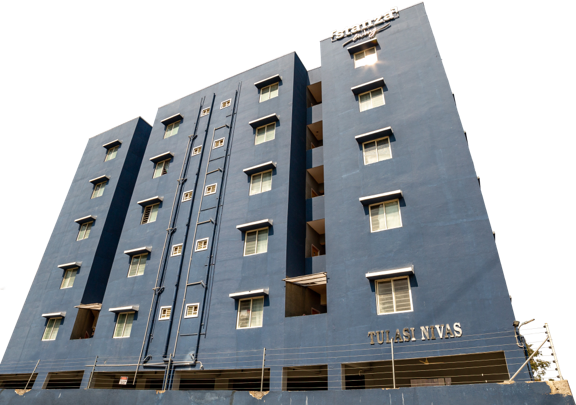 Best-in-class Safety and Hygiene Certified by Equinox Labs
First and foremost, we've adopted thorough hygiene processes over and above our usual protocol.

Residences
Sanitisation

Thermal
Monitoring

Medical & Travel
History
24x7 Quick
Response Teams

Training As per
WHO norms

No-Touch
Dining Facility
Mandatory PPE
for Staff

Sanitisers Placed
at Multiple Areas

Daily Disinfecting
High Touch Areas

Map View