Gender
Price
Locality

More Filters
Your second home in Bengaluru
Looking for a place to stay? Well, there's a special PG near Jyothi Nivas College just for you. But what does the 'special' in the special PG mean? It means that it is like no other PG near Jyothi Nivas College, Bangalore. And over here, you won't be treated like a paying guest. You'll get the treatment of a much-loved member of a family. Now, feeling like part of a family is another way of saying this place feels like home. Because that's what it is. Miles and miles away from your home, it is your second one - Stanza Living.
Flat vs PG near Jyothi Nivas College - The Cost of Living
These days, many youngsters like yourself are attracted to living in flats. Partly because of the affordable monthly rent, but also because of the allure of freedom. But then comes the domestic help's salary, the maintenance and electricity charges, the wifi bill and more monthly charges. Soon that flat with its freedom seems like a cage you're stuck in. With this knowledge, it's quite natural to consider moving into a PG in Bangalore, with its low rent and included amenities. But in many cases, you'll have to learn to live with the mismanagement and the unexciting life of the PG. And that's a heavy cost to bear. The good news is that you have the option to live in Stanza Living, where all your needs are taken care of as you chill with your Stanza Living family in the fully-furnished rooms and common areas. And this luxury of having a home away from home can be yours for very affordable occupancy rates.
What to Look for in a PG Accommodation near Jyothi Nivas College?
Looking for that missing sock is easier than looking for the things a PG accommodation near Jyothi Nivas College must-have. "Do they have a single-occupancy room?", "Does the room have enough furniture?", "Does it come with wifi, AC, power backup and food?". There are some of the many questions you'll have to ask. Now imagine doing this review in every single PG on your radar. Not a cakewalk, is it? But there is a way to avoid all these hassles. And that way leads to Stanza Living. We know every item on that list of yours. And you can rest assured that we'll never run short of any of them. In fact, once you move in, you'll feel right at home. That's why it'll become your second one.
A paying guest (PG) near Jyothi Nivas College not happening for you? No stress. We have residences all over Bangalore.
Places in and around Jyothi Nivas College: Zuzuvadi, Chikku Lakshmaiah Layout, Forum/Madiwala Checkpost.
*Denotes starting price. Prices may vary with room occupancy and attributes.
FAQs on PG near Jyothi Nivas College
Which are the Best PGs for Gents near Jyothi Nivas College?
There are plenty of paying guests for gents near Jyothi Nivas College. But the best ones are those that are more than just PGs. Just like Stanza Living. More than a PG, it is your second home.
Do I Have to Pay Any Brokerage While Booking a PG near Jyothi Nivas College?
That depends. Does the PG owner deal exclusively through brokers or do they manage it themselves? But with Stanza Living, that's not a hassle. Deal directly with us and know exactly what you're paying for thanks to our fair and transparent rental structure.
In need of the best PG near Jyothi Nivas College? Then all you need is this list of Stanza Living residences.
How Safe is a PG near Jyothi Nivas College for Students and Working Professionals?
The best people to take you through the security level of the local PG near Jyothi Nivas College, are the local PG near Jyothi Nivas College. Instead, we can tell you of the biometric security, the CCTV cameras and other security measures we have in place at every Stanza Living residence. After all, you will be a member of our family. And we will protect you like one.
How Much Will a Fully Furnished PG near Jyothi Nivas College Cost?
The average rent of a fully-furnished PG near Jyothi Nivas College is a few thousand rupees a month. But with Stanza Living you also get the feeling of home. And that is absolutely priceless.
Which are the Best PGs for Ladies near Jyothi Nivas College?
There are many PGs for ladies near Jyothi Nivas College. But when it comes to the best option for you, there's only one winner. And that - surprise! surprise! - is Stanza Living.
How Safe are PGs near Jyothi Nivas College During the Coronavirus Outbreak?
When it comes to COVID-19, we have a strict no-entry policy for it. In fact, we've decided to take all measures necessary to safeguard our residents. Thermal monitoring at the entrance, regular residence sanitization, and social distancing even during the distribution of meals, are a few of the measures we're taking. The advantage we have over a small PG near Jyothi Nivas College is our scale and network. if you're a Stanzen, you'll have our COVID-19 Combat-Ready Framework protecting you and providing you with a safe and hygienic environment.
Samara House


UNISEX

Double

High-Speed WIFI, Professional Housekeeping and +7 more

3D Tour
Como House

FEMALE

Double

High-Speed WIFI, Laundry Service and +8 more
Looking for flats & apartments?
You can book a full apartment now and find flatmates on your own. You can add them as flatmates in the agreement before moving in!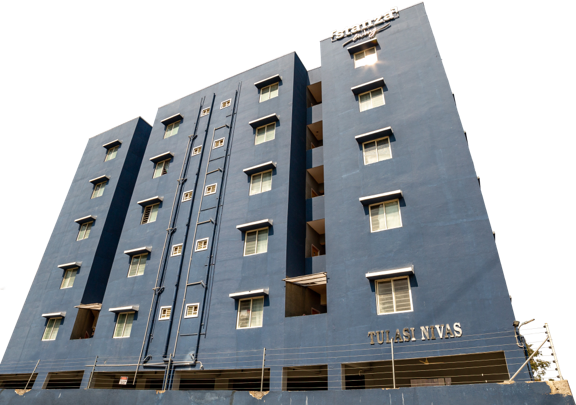 Best-in-class Safety and Hygiene Certified by Equinox Labs
First and foremost, we've adopted thorough hygiene processes over and above our usual protocol.

Residences
Sanitisation

Thermal
Monitoring

Medical & Travel
History
24x7 Quick
Response Teams

Training As per
WHO norms

No-Touch
Dining Facility
Mandatory PPE
for Staff

Sanitisers Placed
at Multiple Areas

Daily Disinfecting
High Touch Areas
0