Gender
Price
Locality

More Filters
Your second home in Bengaluru
Stanza Living's new-age professionally-managed accommodations are here to stay. Because the days of staying in the simple, old PG in Bangalore are gone. Now, you will no longer have to contend with being just a paying guest in Bangalore, where you just come back to eat, sleep, and then leave for the next day. That's because now you have the option to stay in a Stanza Living residence, which beats even the best PG in Bangalore, by many miles.
Every year thousands of young people pack their bags and leave their hometowns as life takes them to Bangalore. And the first thing they search for is a place to stay. So far that search has led them to the many luxury PGs in Bangalore, but we feel they deserve something more. They deserve a place that can be their second home - like one of the many residences by Stanza Living. It's a level of brotherhood that even the best PG room or hostel in Bangalore can't compare with.
How to Find a Good Luxury PG in Bangalore?
A typical boys or girls PGs in Bangalore has the usual four walls and a roof, with a bed, table, and chair combination. The amenities are also limited to the basics - repetitive meals, hot water, etc. However, at Stanza Living, you get rooms with all the furniture you need, from beds to bookshelves. Plus you'll have all essentials that need to be taken care of like you're used to at home. So instead of shifting to any pg in Bangalore when you shift to a Stanza Living residence, it'll be like leaving the comforts of home, for the comforts of home.
Best Ladies and Gents PG in Bangalore - Stanza Living
You won't find another male and female PG in Bangalore like Stanza Living. There, we said it. Our rooms are not ours, they are yours as they hold a hint of your essence. We could bore you with the list of amenities provided for you. From basic to state-of-the-art, we have you covered. The amenities are not it, though. Life at Stanza Living with all its fun and vigor is what makes living here a great experience. Life at Stanza Living, with all its excitement, is the greatest attraction. And perhaps most importantly, it feels just like home, full of peace and joy.
Not into PGs worry not we got you covered, Check out the flat for rent in Bengaluru.
Popular Areas For Best PG in Bangalore
A PG in Bangalore is the most common choice of students and working professionals. Here you can explore the best luxury PGs across the 7 most popular localities of Bangalore.
Life of a Paying Guest (PG) in Bangalore
Wake up. Eat breakfast. Rush to work or college. Do the grind. Get exhausted. Come back. Eat dinner. Sleep. Repeat the next day.
The life of a PG in Bangalore doesn't really have any room for 'life'. But as a Stanzen, you'll have entertainment zones, gaming corners, and chill-out spots. Then there are regular movie screenings, game nights, skill-building workshops, and more community events. In short, at a Stanza Living residence, every day won't feel like any other day.
Cost of Living in Bangalore - PG vs Rented 1BHK Flat
Bangalore has got a reputation for being one of the costliest Indian cities to live in. In popular spots like Koramangala, Bannerghatta, and MG Road, rentals for a 1BHK are anywhere between Rs. 14,000 to 23,000. Add the expenses of a domestic help's salary, groceries, transport, electricity, and nightlife, and pretty soon you'll have a long list of monthly expenses.
That's overwhelming even if you have a few zeroes at the end of your CTC.
But relax. Cost of living a in Bangalore is more than possible on a budget. With Stanza Living, you get fully-furnished rooms, meals, exhaustive amenities, a vibrant life, and tech-integrations that make luxury PGs in Bangalore feel like ancient history, for as low as Rs 5,500 per month.
Find your Second Home as Paying Guest in Bangalore:
Now that you know why you should skip the PGs in Bangalore for a second home, explore our many residences spread over the city, and choose the one that feels most like home to you.
There are several Engineering, MBA Colleges in Bangalore medical, other educational colleges along with various software and IT companies in Bangalore. At Stanza Living, you not only live hassle-free but also in luxury and feel at home.
If you still have some questions regarding luxury shared/single room pg in Bangalore, below are few FAQs.
*Denotes starting price. Prices may vary with room occupancy and attributes.
FAQs on PG in Bangalore
What are the Things to Remember While Renting a Luxury PG in Bangalore?
The thing to remember while renting a Boys PG or Girls PG in Bangalore is what you'll remember years after you've left the place. Will you have boring memories of living in a simple, old-fashioned PG accommodation? Or will you look back at the time as a phase where you made lifetime friends and grew as a person, as you would in your second home? Then the choice will be clear.
How Can I Find the Best PG Near Me?
There's a special PG in Bangalore, waiting for you. But what's so 'special' about this PG? Well, just that it's not like any other PG in Bangalore. And unlike a PG, you won't be just a paying guest over here. You'll be a part of a large, happy family. Now, where there is family, there is a home. That's why this place is more than a place to stay. It's what we like to call your second home - Stanza Living.
Here is the list of our accommodations that top even the best PG in Bangalore:
How are PGs in Bangalore Protecting their Residents Against Covid-19?
We have implemented thermal monitoring, regular residence sanitization, social distancing in all common areas, regular audits by healthcare experts, and more. Unfortunately, even luxury PGs in Bangalore have asked their residents to vacate. But true to our resident-first motto, we feel it's our responsibility to keep you safe.
Which are the Best PGs Near Me for Ladies?
The best PGs in Bangalore for gents are not PGs. They are one of our many fully-furnished, thoughtfully designed residences by Stanza Living.
If you wish to experience life in the best PG in Bangalore then choose one of these Stanza Living residences.
How to Find a Homelike Accommodation as a PG in Bangalore?
Truth be told, 'homelike accommodation' and 'paying guest' rarely overlap. That's why at Stanza Living, we don't have PGs, but second homes for our residents, who are just 'paying guests', but members of the Stanza Living family.
Which is the Best PG in Bangalore for Ladies to Live in?
Even the best female pg in Bangalore is no match for a Stanza Living residence in the area. That's because our residences are not just PGs, but a place with all the vibe and comforts to feel like a second home.
Here is the list of our residences that tops even the best PG in Bangalore for ladies.
Which is Better PG or Flat in Bangalore?
Broadly speaking, a PG in Bangalore is available for just a few thousand a months. And that rent includes a basic room and certain essential amenities. That's the typical definition of cost-effectiveness. But the one that you don't get is a place that feels like home. That you'll find only in Stanza Living. And what else? It's yours to have for the same price range. So missing out on it will cost you more.
What is the Scope of Co-living (Unisex) PGs in Bangalore?
There are 61 Stanza Living residences spread all over Bangalore. So when it comes to you having an exciting, comfortable, and memorable phase of your life in this city, there are a lot of scopes. All of Stanza Living's
coliving PGs in Bangalore
are equipped with the best amenities like fully furnished rooms, delicious meals, high-speed wifi, doctor on call, housekeeping services, etc.
Here is the list of our residences that beats even the best unisex PGs in Bangalore.
How Much Does a Boys PG Cost in Bangalore?
A gents PG in Bangalore will cost you rent, plus all the comforts, opportunities, excitement, and memories you're going to miss out on because you didn't live with Stanza Living. As for our residences, the occupancies start at just Rs. 5,500 per month.
How Can I Book a PG in Bangalore?
Simple - you don't. Instead, you should opt for what you deserve. Explore our many residences in the city and pre-book your bed in the one you like.
How Safe are Unisex PGs in Bangalore?
We can't talk about the safety of PGs in Bangalore. But at Stanza Living, we have a multi-tier security system, which includes biometric access and a 24*7 security guard, at each of our residences, be it for a girl, boy, or couple.
How is Stanza Living Better from Local PGs in Bangalore?
You'll find many PGs in Bangalore that claims to be 'luxury PGs near you', 'first-class PGs', and the 'best PGs in town'. But we claim to be more than a PG i.e. paying guest accommodation. We believe Stanza Living is your second home. And that's what really makes us different.
To begin with, let's talk about our rooms. Simply put, they are not just rooms, but your personal space, one which you'll love to come back to. Then there is our long list of essential amenities. But most of all, you should choose Stanza Living over any plain and simple PG because, with Stanza Living, you don't just get a PG in Bangalore. You get a second home.
Also, Click to explore:
What Should I Check While Booking a PG for Ladies in Bangalore?
You have to check many things while renting a shared/singe sharing PG in Bangalore. The room and the furniture should be just right. The amenities should include wifi, AC, power backup, and hot water, and it should be well-located. But instead of making a checklist and comparing notes, we'd say just look for one thing that ensures that the rest is taken care of.
Remember to pick that PG accommodation in Bangalore which is trying to be more like home. Because only a place like home will take care of all your needs.
How Good is the Paying Guest (PG) Facility in Bangalore?
Paying guest facilities in Bangalore are old, outdated, and obsolete. If you're living in a city as new-age as Bangalore, you deserve an equally new-age residence like Stanza Living.
Should I Rent a Shared or Single Room PG in Bangalore?
There is no hard and fast rule, you can either opt for a shared or single room pg in Bengaluru. Every PG occupancy near you comes with its own advantages. And it all depends on what you prefer. That's why, at Stanza Living, you'll find all of them. Because we want to have the ability to satisfy you, no matter what you need.
How Good are the Services Offered by Ladies PGs in Bangalore?
Okay. So at Stanza Living, we have expertly curated meals and professional teams for room cleaning and laundry. And we feel if a local PG in Bangalore doesn't provide the same quality, it is not good enough.
How Safe are Girls Hostels in Bangalore During the Covid 19?
Honestly speaking, most small-scale PGs in Bangalore are too small-scale to protect you from COVID-19. The good news, however, is that you have a safe and hygienic environment at Stanza Living. Each and every possible safety measure is part of our 'COVID-19 Combat-Ready' Framework.

Video

3D Tour
Frankfurt House

FEMALE

Double

High-Speed WIFI, Professional Housekeeping and +7 more

Video

3D Tour
Yokohama House

FEMALE

Double, Triple

High-Speed WIFI, Laundry Service and +8 more
Looking for flats & apartments?
You can book a full apartment now and find flatmates on your own. You can add them as flatmates in the agreement before moving in!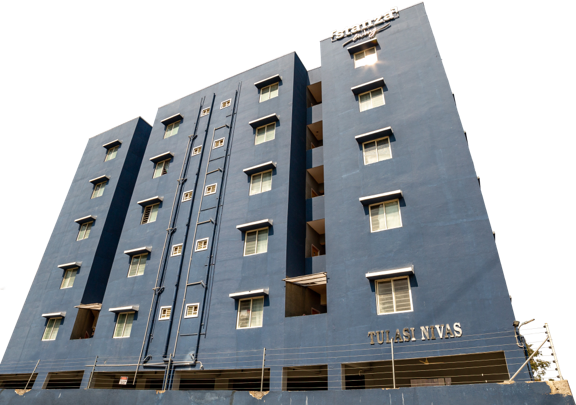 Best-in-class Safety and Hygiene Certified by Equinox Labs
First and foremost, we've adopted thorough hygiene processes over and above our usual protocol.

Residences
Sanitisation

Thermal
Monitoring

Medical & Travel
History
24x7 Quick
Response Teams

Training As per
WHO norms

No-Touch
Dining Facility
Mandatory PPE
for Staff

Sanitisers Placed
at Multiple Areas

Daily Disinfecting
High Touch Areas
0